Created in the 1960s the North Dakota Game and Fish Advisory Board is made up of eight members, four landowners and four hunter/anglers. Board members serve as liaisons between the department and the North Dakota public. Bi-annual meetings are held in each of eight districts giving citizens an opportunity to discuss fish and wildlife related issues.
Fall 2015 Meeting Schedule
Note: Any person who requires an auxiliary aid or service must notify the contact person at least five days prior to the scheduled meeting date.
District 1 – Counties: Divide, McKenzie and Williams
Date: November 24, 2015 – 7pm CT
Location: Ray Senior Center Ray, ND
Host: Ray Sportsmen
Contact: Rick Liesner, 701-648-9712
Advisory board member: Jason Leiseth
District 2 – Counties: Bottineau, Burke, McHenry, Mountrail, Pierce, Renville and Ward
Date: December 1, 2015 – 7pm CT
Location: Nelson Science Center, Dakota College – Rm 25 Bottineau, ND
Host: Bottineau County Wildlife Club
Contact: Tom Nowatzki, 701-256–0984
Advisory board member: Robert "Yabo" Gjellstad
District 3 – Counties: Benson, Cavalier, Eddy, Ramsey, Rolette and Towner
Date: November 24, 2015 – 7pm CT
Location: Leeds Community Center Leeds, ND
Host: Leeds Wildlife Club
Contact: Bill Harkness, 701-351–0149
Advisory board member: Thomas Rost
District 4 – Counties: Grand Forks, Nelson, Pembina and Walsh
Date: November 30, 2015 – 7pm CT
Location: Northwood Community Center Northwood, ND
Host: Northwood Mens Club
Contact: Tom Leen, 218-230-8123
Advisory board member: Joe Solseng
District 5 – Counties: Cass, Ransom, Richland, Sargent, Steele and Traill
Date: November 23, 2015 – 7pm CT
Location: Hughes Shelter, 820 RJ Hughes Drive Wahpeton, ND
Host: Red River Area Sportsmen's Club
Contact: Wayne Beyer, 701-899–1700
Advisory board member: Duane Hanson
District 6 – Counties: Barnes, Dickey, Foster, Griggs, Logan, LaMoure, McIntosh, Stutsman and Wells
Date: November 30, 2015 – 7pm CT
Location: Americana Inn Valley City, ND
Host: United Sportsmen of North Dakota
Contact: Shawn Vachal, 701-840–1143
Advisory board member: Joel Christoferson
District 7 – Counties: Burleigh, Emmons, Grant, Kidder, McLean, Mercer, Morton, Oliver, Sheridan and Sioux
Date: November 23, 2015 - 7pm CT
Location: Flasher Public School cafeteria Flasher, ND
Host: Raleigh Sportsmen's Club
Contact: Florian Zins, 701-597–3661
Advisory board member: Dave Nehring
District 8 – Counties: Adams, Billings, Bowman, Dunn, Golden Valley, Hettinger, Slope and Stark
Date: December 1, 2015 – 7pm MT
Location: New England Memorial Hall (Basement) New England, ND
Host: Hettinger 4-H Shooting Sports Club
Contact: Duaine Marxen, 701-824–2095
Advisory board member: Dwight Hecker
District Map
Click on image to view a larger map.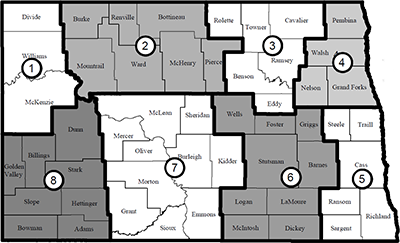 More Information