Created in the 1960s the North Dakota Game and Fish Advisory Board is made up of eight members, four landowners and four hunter/anglers. Board members serve as liaisons between the department and the North Dakota public. Bi-annual meetings are held in each of eight districts giving citizens an opportunity to discuss fish and wildlife related issues.
Fall 2014 Meeting Schedule
Note: Any person who requires an auxiliary aid or service must notify the contact person at least five days prior to the scheduled meeting date.
Meeting Date
Host
Location
Contact Person
District 1 - Divide, McKenzie and Williams
Board Member - Jason Leiseth
Nov 24, 7 p.m. CT
McKenzie County Pheasants Forever
Watford City Civic Center
Rick Pokrzywinski, 701-770-2736
District 2 - Bottineau, Burke, McHenry, Mountrail, Pierce, Renville and Ward
Board Member - Robert Gjellstad
Dec 1, 7 p.m. CT
Stony Run Sportsmen Club
Bowbells City Hall
Tami Chrest, 701-339-2117
District 3 - Benson, Cavalier, Eddy, Ramsey, Rolette and Towner
Board Member - Thomas Rost
Dec 1, 7 p.m. CT
Cavalier County Gun Club
Langdon Research Center
Rodney Howatt, 701-370-9988
District 4 - Grand Forks, Nelson, Pembina and Walsh
Board Member - Ron Houdek (acting)
Nov 25, 7 p.m. CT
Dakota Prairie Wildlife Club
Fordville American Legion Club
Lynn Baier, 701-229-3665
District 5 - Cass, Ransom, Richland, Sargent, Steele and Traill
Board Member - Duane Hanson
Nov 24, 7 p.m. CT
SE Sportsmen's Club
Cogswell Community Center
Kevin Dockter, 701-680-8008
District 6 - Barnes, Dickey, Foster, Griggs, Logan, LaMoure, McIntosh, Stutsman and Wells
Board Member - Joel Christoferson
Nov 25, 7 p.m. CT
James Valley Pheasants Forever
Gladstone Inn - Jamestown
Curt Francis, 701-799-0120
District 7 - Burleigh, Emmons, Grant, Kidder, McLean, Mercer, Morton, Oliver, Sheridan and Sioux
Board Member - Dave Nehring
Dec 2, 7 p.m. CT
Dakota Chapter Pheasants Forever
Bismarck Game and Fish Auditorium
Rob Stenehjem, 701-400-8106
District 8 - Adams, Billings, Bowman, Dunn, Golden Valley, Hettinger, Slope and Stark
Board Member - Dwight Hecker
Dec 2, 7 p.m. MT
ND Fur Takers
American Legion – Killdeer
Gary Jepson, 701-863-6535
District Map
Click on image to view a larger map.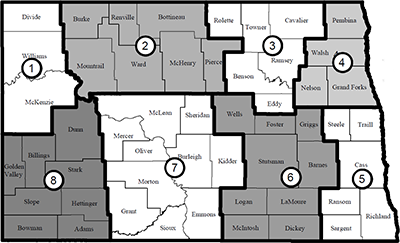 More Information