Paddlefish Snagging season opens May 1. The season runs through the end of May; however, the season may be closed earlier in the month if harvest limits are reached. Snagging is limited to the areas shown on the map below. Please see the North Dakota Fishing Guide for more information and related regulations.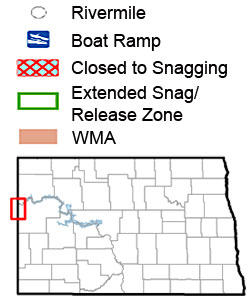 Note: If you are viewing this on a mobile device, click here to learn more about our mobile mapping apps and services.
Printable Map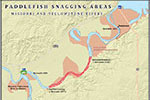 (Format - .jpg)
---
What is a paddlefish?
One of only 2 species of paddlefish in the world, the North American species is found in 22 states. The fossil record of paddlefish species in the Missouri River basin dates back 60 million years. Individual animals can live 60 years or more and reach weights of almost 200 pounds (current North Dakota record – 130 pounds). To learn more about paddlefish, check out our paddlefish question and answer page.
Paddlefish Tag Vendors
Bismarck Game and Fish Office
100 N. Bismarck Expressway
Bismarck, ND 58501
701-328-6300
Williams County Auditor
PO Box 2047
Williston, ND 58802
701-577-4500
Scenic Sports
1201 East Broadway
Williston, ND 58801
701-572-8696
Runnings Farm and Fleet
2003 3rd Avenue West
Dickinson, ND 58601
701-483-1226
Wal-Mart, Inc.
4001 2nd Avenue West
Williston, ND 58801
701-572-8550