---
Web Map Services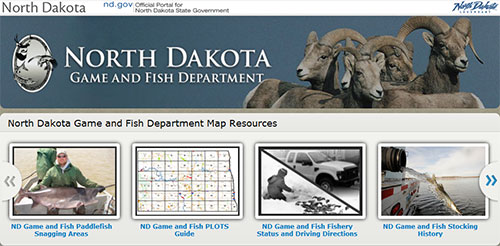 ND Game and Fish ArcGIS Online Site - The Department offers a variety of web based maps. These maps are specific to many aspects of hunting, fishing and other outdoor recreation. Other than the traditional desktop experience, these maps are accessible on smartphones and other mobile devices. Some of the web maps offer additional features including location GPS services.
Visual ND - The State of North Dakota's Visual ND site contains commonly used web maps and applications from a variety of state agencies. Although this site is currently in its infancy, this site will offer access to other map resources including printable map documents, data, web services and numerous web applications.
---
Interactive Map Services
The North Dakota Game and Fish Department (NDGF) interactive maps services provide the user with a vast amount of data and functionality all available through the web browser. Users can customize maps using the various tools provided in the application or simply just display or print their desired map.
(Note: Pop-up blockers settings may impact many features and functionality of the map services and may need to be turned off.)
General Information Map Service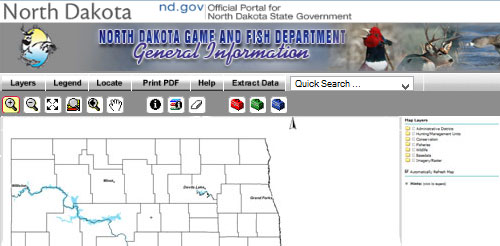 NDGF General Information - Contains a variety of data resources including aerial imagery, Private Lands Open To Sportsmen (PLOTS) and lake contours.
Details: This service provides an in-depth look at a variety of Department information including administrative districts, hunting and management units, fisheries and wildlife data, and other base map information. Users can locate wildlife management areas, look at fish stocking history, identify available fishing facilities, or display depth contours of a specific bay or lake. Quick search options are available for commonly-used data layers or locating a specific section, township and range. Learn more about customizing these maps by reading our short map customization how-to page.
PLOTS Information Map Service
NDGF PLOTS Information - Contains real time Private Lands Open To Sportsmen (PLOTS) information presented in the PLOTS Guide format.
Details: This service allows users to bring real time PLOTS information to the desktop. Users can print updated map sheets, zoom to their favorite hunting location, or view unfamiliar PLOTS with aerial imagery.